Land transport with CARGO ONLINE
CARGO ONLINE offers the Land module for the handling of land transports. It brings everything to handle orders from partial and complete loads quickly and comfortably.
Managing land transport with CARGO ONLINE
In convenient master data management, your data can be set for credit limit monitoring. In the case of order attachment, an automatic check is carried out in the background, the same applies to the integrated sanctioned list check. In addition, the List & Label function makes it easy and quick to design and/or customize forms yourself.
The module includes address management including truck-relevant content such as volume calculation, loading/unloading times, location IDs and more. Order master data is created including packaging and dangerous goods master data.
For distance calculation, it is possible to integrate Map&Guide data in addition to specifying countries, places, prices, relations and tariff zones with included OpenEWS connection.
In addition, the Land module of our forwarding software has a loading aid and vehicle management (vehicle, ID, driver details, dimensions, separate address number assignment).
Advantages of the Land Module
Order and document management
Takeover function of master data
Copy function for fast data collection
Individual form and template design
Plausibility checks
Workflow definition
Management of transport orders
Order entry supports the user with many useful functions. Time savings and effort minimization are in the foreground. The registration or scheduling of orders is carried out at the order level, together with the loading meter calculation and invoice and cost pre-recording.
The issue of documents, indicating the loading and unloading points, is also located in this area. In addition, the distance calculation takes place in the order entry – of course according to Open-EWS or Map&Guide data.
The route planning, with order assignment directly from the order entry, is carried out under display of the loading meters, the weight or the cubic meters.
Efficient billing
In order to act efficiently here as well, the order data is transferred directly to your invoice in no time. Furthermore, the Country module is equipped with interfaces to financial accounting systems, such as DATEV.
Recommended by DATEV
As a certified DATEV software partner, dbh offers CARGO ONLINE, a solution that is optimally connected to DATEV programs and complements them sensibly.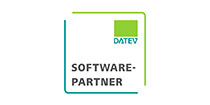 As in the order area, your own templates make your work easier, e.g. in standard transactions. In addition, it is possible to create individual or collective invoices.
In the Settlement section, you will also find your billing master data (cost centres, ledger accounts, sales tax rates) as usual.
Your contact to our sales department
Your contact to the dbh sales department
+49 421 30902-700 or sales@dbh.de
You are interested in our products and consulting or need help with your dbh software? Our sales team will advise you to find the perfect solution for your company.