Automation and, with it, increased efficiency are leading topics in today's society. To help you achieve these goals, dbh Logistics IT AG offers you useful plug-ins for your SAP system.
Automatically generate documents
The Document Monitor is one of these plug-ins. With the help of sap system expansion, you can automatically generate documents with customs, foreign trade law or logistical relevance. This includes documents accompanying the process, such as:
EUR.1
CMR consignment letter
Packing
A.TR freight paper
Commercial invoice
Certificate
You can create additional documents using SAP Smart Forms. For all forms, it is also possible to create them in several languages. The time of creation and printing of documents can be set individually, because the plug-in uses SAP message control.
Your benefits
Automatic generation of documents relevant to customs law
Using SAP Smart Forms
Central monitoring of your documents
Increasing the degree of automation

A time-saving feature here is that the documents are initially filled with data that is already included in the relevant standard documents in SAP. You can also change free texts afterwards via the "Texts" tab in the SAP documents.
All your generated documents are automatically attached to the respective SAP standard document, such as SD order, delivery, transport, billing document, etc. In addition, your generated documents are automatically archived in your content repository – audit-proof in PDF format.
Zental Monitoring of Your Documents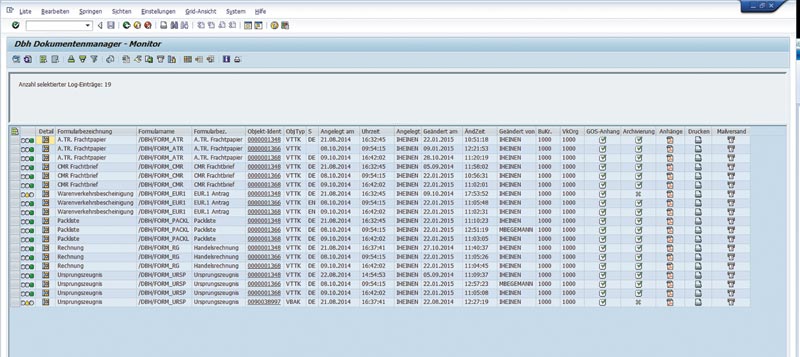 The SAP plug-in provides you with central monitoring of the documents. You can see at a glance which documents have already been printed. It is also possible to switch from the document monitor to the SAP documents. It is also possible to quickly and easily reprint your documents from the Document Monitor plug-in.