Under the patronage of Sigmar Gabriel, Federal Minister of Economics and Energy, the 11th German Foreign Trade Day took place in Bremen on 19 April 2016. This year's topics security of data and data networks,supply chain management, export financing and insurance as well as handling political export restrictions were all under the maxim Global, Digital, Frei: Shaping the foreign economy of the 21st century.
dbh Logistics IT AG (dbh) was invited as an expert at the fireplace discussion on the topic of cybersecurity and data protection in international business. Rudolf Klassen, Head of IT Services at dbh, discussed with other specialists, for example, how companies can protect their data and what security standards to follow. But also how to reconcile the different intercontinental privacy philosophies – especially when it comes to the protection of personal data.
Digitisation: Challenge and Opportunity for Industry 4.0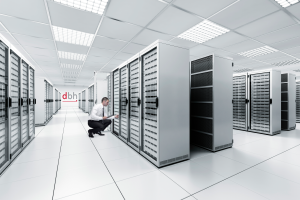 For Rudolf Klassen, his speaker activity was a good opportunity to sensitize the participants of the event to his topic. "In many ways, we opened the eyes of those present and caused one or the other aha effect," Klassen explains. "Just in view of the upcoming EU General Data Protection Regulation, which will replace the current Federal Data Protection Act in many areas."
The 11th German Foreign Trade Day in Bremen showed that digitalization in the form of cloud services is essential for internationally operating companies. As a challenge and an opportunity at the same time, it paves the way to Industry 4.0.
Cloud Services by dbh
As operators of their own high-security data centers and providers of comprehensive data center solutions, the topics of data protection and data security are at the top of the agenda for dbh. In addition to savvy personnel and the use of the latest technologies, the Law on Increasing the Security of information Technology System (IT Security Act) is another cornerstone of the IT strategy.
for further information, process analysis and consulting in the difficult environment of IT security, dbh is at your disposal.