Companies are required by law to carry out a sanctioning list check at every business contact. The goal is to identify sanctioned contacts.
Our Software Advantage Compliance will perform this audit for you: Integrated into your ERP, WMS or TMS system, the screening can be triggered wherever addresses are stored. The check is made against the daily published sanctions lists and is completed within seconds.
Benefits of SanctionEd List Examination
Up-to-date content
ERP integration and SAP plug-ins
Intelligent check for optimized hit lists
Individual Black Lists and White Lists
Various testing options: Manual single check, batch check, synchronous check, DELTA check
Red-Alert E-Mail
Test results online, by mail or as a file
Archiving of results logs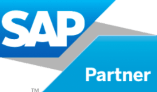 SAP and ERP Integration
dbh Plug-Ins für SAP sind Softwareerweiterungen, mit denen Sie Ihr SAP-System ganz einfach um Module, wie beispielsweise Sanktionslistenprüfung, Exportkontrolle, Tarifierung, US-Re-Exportkontrolle, ergänzen können. Und Ihr Vorteil: dbh SAP Plug-Ins sind bereits für SAP HANA ausgelegt.
Andere ERP-Systeme (Warenwirtschaftssysteme) können ebenfalls durch die Module von Advantage Customs erweitert werden.
Sanction list verification is mandatory
The obligation to screen the sanctions list exists regardless of the country in which the business contact is located – domestic German business is also affected, and employees, suppliers and transport service providers must also be screened. The sanction list screening (also called "Denied Party Screening", DPS) is obligatory for every type of contract – in addition to commercial contracts, this also concerns employment contracts and all other types of contracts in domestic business. Without an appropriate software solution for sanctioning, it's a difficult task.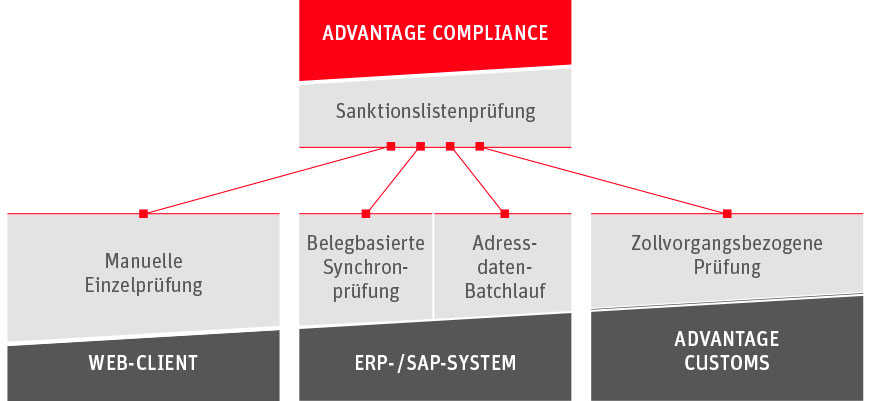 AEO and approved exporter
Approved exporters authorised by customs must demonstrate that employees and business contacts are matched with applicable sanction lists.
Authorised economic operators (AEOs) also undertake to act in accordance with the rules. This includes compliance with anti-terrorism regulations in AEO F and AEO S. The SanctionEd List Check in Advantage Compliance automatically documents the audit processes so that they are traceable at all times.
International anti-terror lists always at hand
A key component of compliance is checking your business partners for compliance with existing sanction lists, which, for example, the EU and the US issue. The current example is the embargoes imposed on Russia. These lists, often referred to as anti-terrorist lists, contain both legal and natural persons with whom business contact is either prohibited or subject to trade restrictions or licensing requirements. With our software solution, you always have the latest sanction lists at your disposal.
Single, batch and delta testing
The check can be initiated manually or automatically for individual address records. In addition, it is also possible to check against complete data sets as batch processing ("batch check"). The check can be done completely for all records or only for the data changed since the last check. This is how they find sanctioned business contacts.
FAQ: The Sanction List Check for Contact Identification
In order to enable the identification of sanctioned contacts quickly and without much effort, companies are obliged by law to check the sanctions list. But what exactly is behind such an audit and how can the objective of a clear identification for the measures in one's own company be achieved?
What is a sanctions list and what happens during a sanctions list check?
A sanction list aims to carry out checks on all business partners and employees in order to maintain transaction security. A glance at the sanctions list can be used to find out whether potential contractors are serious and whether cooperation enables the desired security. For example, almost every industry has independent lists and compilations that collect information on liquidity and reliability.
In order to be able to perform an appropriate sanction list check on your own, you must first select the correct list. Subsequently, the verification of all business addresses, persons, organizations and companies is mandatory. If the test is not carried out, there may be heavy penalties. By supplying goods or paying funds to partners and companies on such a list, the management is liable to prosecution.
Why do I need a Sanction List check?
The purpose of examining the sanctions list is to prevent terrorism. For this reason, for example, the states of Afghanistan, Belarus, Myanmar, the Central African Republic and the Democratic Republic of Congo are on all the common lists, which may differ somewhat from region to region. Since the contents of such a sanctions list are, for example, arms embargoes or funding bans, the potential for cooperation in each industry must be re-examined.
This ensures that you adhere to the legal foundations of your company location and are well informed at all times. Regular checking is also helpful for changes on the list, which will keep you informed of the suitability of your customers. By dividing multiple exam areas, it is easy to keep track of all restrictions and guidelines in conjunction with a suitable software or application.
In connection with the Sanction List Check, you therefore make a functional secure and have an easy time reporting hits on the list directly to the authorities. On the basis of the obligation to regularly review the sanctions list, it is important to report infringements effectively and to have a well-thought-out instrument for recording them. This is the only way to avoid the name of your company being associated with a violation of the principles of the sanctioned people and from having to pay heavy financial penalties.
Sanctions lists: Who needs to check what?
If possible cooperation is imminent, the exporting company is obliged to carry out an audit. In principle, there are no exceptions. Each company registered for business is obliged to look at the sanction lists in order to protect itself with regard to its own activity. However, the audit is mandatory not only for its own transparency, but also for the overall impact and preservation of regional principles.
Due to the high availability of different lists, you should first record which lists and collections are important to your project partners. It is not always necessary to check all lists in advance. In most cases, the basis of the UN sanctions list is supplemented only by the registrations of the regionally specific locations in order to meet the requirements. If you choose to validate using Advantage Compliance, the legally required lists are typically already built-in. This way, you do not have to manually adjust, but keep an overview around your sanction lists at all times.
Which sanction lists need to be checked?
The basis for the verification within the registrations is the UN sanctions list. It is issued by the state body and is in line with the assessments of the UN Security Council. The purpose of the list is to identify companies which are already under an economic ban and which may not be available for economic cooperation. The reasons for such a ban are often potentially terrorist in nature, which is why these partners are actively banned from providing them.
If the company under investigation is based within the EU, the European sanctions lists will also have to be reviewed. A distinction is made between the personal and country-related sanctions list in order to identify individual partners on the one hand and to be able to react to economic barriers and embargoes on the other.
Other relevant reviews within such sanctions list include UK and US coverage. However, attention must be paid to the different legal bases which do not automatically make European law the focus of further coverage. Primary transactions with a responsibility in the United States or the United Kingdom must therefore also be audited in order to obtain qualified statements.
Why do sanctions lists need to be checked?
The regular examination of the sanctions lists ensures that changes can be seen at first sight. Therefore, the lists are not only based on a one-off check, but also on the regular recording of the legally up-to-date status. In this way, the aim is to avoid guaranteeing the financing of anti-freedom and anti-democratic forces, which is why it is important to make a specific assessment. Therefore, companies have a responsibility to keep an eye on the lists and to check their own partners regularly.
A violation of the sanctions list is also important for your own financial and operational situation. Thus, the accusation of non-compliance with a court order or a law is in the air, on which you have to justify yourself in court. These can be financial penalties, but also deprivation of liberty measures. It depends on the severity of the breach and the location of your company. On this basis, it will also be a good choice for you to orientate yourself in advance on the registration of the sanctions lists.
Sanctions list verification in the justice portal or rather with a software?
If you choose a justice portal, you will not incur any direct costs for you as an entrepreneur. Also, registration or the provision of certificates is not required at this point. The problem, however, is that only Regulation No 881/2002 is being examined. In addition, the input and search are bound to individual addresses, which makes it much more difficult to check several business partners.
An audit in conjunction with software such as Advantage Compliance makes capture much easier. Although you have to reckon with certain costs for the purchase based on the chosen model, the software becomes much more reliable for the test itself. With just a few clicks, you have the overview you want and you can see which companies are already on the list. Both individual addresses and entire test stocks are traced in this way. This way, clarity and transparency with the software are always maintained.
What is the risk of providing funds or economic resources to sanctioned individuals?
In principle, sanctions are an important detail in the fight against terrorism. For example, the European sanctions list ensures that all appropriate sanctions are applied on the basis of the Iran embargo. This should make it possible to avoid the spread of further injustices and to set a clear focus. The lack of exports to Iran will ensure that the terrorist militias there are unable to equip themselves with additional weapons or to promote injustice in the region by other means.
In this respect, the sanctions lists will become a promotional measure to maintain security within one's own region and to prevent the spread of terrorism. Since the guidelines and embargoes differ from nation to nation, individual registrations are also necessary accordingly. This is the only way to ensure that companies comply with the economic consequences of their location and ensure the existing arrangements.
How can I check who is on a sanctions list?
Most sanction lists are now made available online. This gives each company access to the collection without incurring additional costs. Thus, any allegations based on the lack of availability of such a list are clearly not legally admissible. Before starting a new business relationship, a clear and structured audit must be carried out in order to react quickly to all possible problems and to avoid the possible payment of penalties.
If you prefer to check the lists manually, this is also possible in principle. Due to the large amount of data and the large number of individual lists, both procurement and monitoring without uniform auditing become very complex. Due to the regular obligation to review, it would be necessary to keep using the new list and to obtain further details. For the sake of simplification, digital control is therefore safer and simpler.
However, the best way to check is to implement an automated tool. All lists and registrations are already integrated in this system, which makes it possible to check all partners with just a few clicks. A fully automatic recording is also conceivable, which eliminates the effort for the internal departments in the company. In this respect, you decide for yourself how to view your content and how to optimize your business connections.
How do I integrate sanction edriety check into the company?
If you choose an automated or easy-to-use tool, new partners and employees will be audited in a matter of seconds. Availability as a tool ensures that recording does not cause time and that a technical check can be performed on all business devices. In this way, technical integration does not become a challenge, but can be implemented at any time.
However, it is also important in terms of personnel that the willingness to take the test is present. Therefore, in most cases, a compact introduction is a great way to see the meaning and benefits of such a program. If each employee regularly checks new partners and employees, the sanctions lists will be maintained. Thus, nothing stands in the way of a comprehensive and secure examination without you having to expect penalties for a violation of the sanctions provisions.
When do sanctions lists need to be checked?
If you want to register a new customer, you must first review the sanction lists. This ensures that cooperation with the customer is also permitted from a legal point of view and that there do not have to be any existing locks or restrictions around the possible cooperation. However, in addition to creating a new customer, such a check is also required before a new shipment is dispatched. This ensures that the sanctions list has not changed content, but that it is still up-to-date.
The same reason applies to verification in connection with financial transactions. A frequent look at the list makes it easier to match your own business relationships and enable a full audit. The personnel sanctions lists also play an important role when it comes to hiring new employees. This allows you to ensure in advance that you maintain the necessary transparency in your transactions and that you avoid doing business with companies on the list.
Sie nutzen eines unserer Produkte und benötigen Unterstützung? Unser Support-Team berät Sie gerne.