Benefit from our expertise
With dbh Managed IT Services, you can outsource selected IT areas to specialists: from audit-proof archiving to secure data center operations and SAP hosting. Benefit from our expert know-how, more flexibility and long-term cost savings.
For companies, efficient information technology plays a significant role in competitiveness. As a result, IT organizations have an enormous range of tasks to deal with. Inmitten komplexer Systemarchitekturen und Technologien müssen sie wachsenden Anforderungen an stetige Verfügbarkeit, Sicherheit und Performance gerecht werden. And at the same time be flexible enough to quickly adapt to new corporate goals and regulatory requirements.
Your guide on the way to digitisation
dbh Managed Services bring you the flexibility you need for digitalisation.
Our spectrum ranges from audit-proof document archiving, EDI clearing and electronic invoice processing to the operation of individual applications in our computer centre and the complete outsourcing of your IT infrastructure.
You decide to what extent you want to delegate IT topics. We put together service packages for you that are tailored to your individual needs.
Benefit from dbh IT Management
The experts at dbh with deep know-how in IT and logistics guarantee you not only high availability and data security with protection against unauthorized access, but also first-class
Advice and support. Secure a long-term competitive advantage with reliable and cost-effective IT support:
Concentration on your core business
Risk transfer through clearly defined service agreements
No more high investments in new IT technology and security
Reliably predictable costs for operation, support and maintenance
Professional operation, support and maintenance by dbh specialists
Reduced complexity of your IT organization
Reduction of personal dependencies
Flexible and fast adaptation to changing needs
Optimize your IT management. Contact us:
dbh Calculators: Tested Quality and Safety for Best Service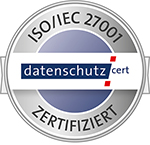 The company's own German data centers meet the highest standards in terms of performance and safety. More than 2,500 customers rely on dbh's reliability and service in their daily work.
The dbh administrators ensure that access is secured at all times and without interruption. You don't have to invest in IT infrastructure yourself to benefit from the latest technologies or software versions. care and maintenance takes care of dbh for you.
As an ISO/IEC 27001 certified company, dbh also has sophisticated information security management (ISMS). Of course, this also includes us acting in a compliant MANNER.
Your contact to our sales department
Your contact to the dbh sales department
+49 421 30902-700 or sales@dbh.de
You are interested in our products and consulting or need help with your dbh software? Our sales team will advise you to find the perfect solution for your company.