SOLAS VERIFIED GREAT MASS (VGM)
Electronic transmission of the VERIFIED GROSS MASS (VGM)
On 1 July 2016, the SOLAS-VGM Directive for the verification of the weights of containers loaded on board seagoing vessels entered into force. For this purpose, the verified incubation container weight (VGM – Verified Gross Mass) must be transmitted by the shipper or forwarder to the shipowner in good time. Containers for which there is no VGM may not be loaded and are therefore not transported.
as a competent and experienced service provider, dbh Logistics IT AG is happy to advise you. We offer various solutions for the worldwide transmission of the VGM to the shipowners: directly from our Forwarding software, direct connection of any scale or with data transmission via interface up to Excel upload and webfrontend.
WHY SOLAS-VGM?
The Verfied Gross Mass (VGM) Regulation aims to prevent loss or threat to life at sea, to reduce environmental hazards and serious accidents and cargo losses at sea. Investigations in connection with serious accidents or incidents have shown that a high number of incorrectly declared weights of containers were involved.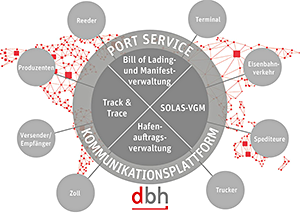 PortService
Use PortService as a central communication tool for easy networking with your partners in the port environment. Integrate new partners into your Suppy Chain cost-effectively and quickly. Benefit from high data quality, interface-independent communication and a scalable system.
Customers who benefit from our products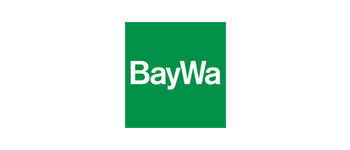 Request more information now
Let our sales department inform you individually about SOLAS VGM.
You can make an appointment and request information material via our contact form

What does the new VGM regulation mean?
The verified gross mass (VGM) of the fully packed and sealed container must be reported by the shipper (usually the carrier or shipper) to the shipowner in good time.
The transmission of the verified total weights VGM to the shipowner may be carried out electronically. For this purpose, a new standardized interface called "VERMAS" was developed by the SMDG (User Group for Shipping Lines and Container Terminals) with which the weights can be sent to the shipowner via EDI.
For their part, since 1 July 2016, the shipping companies have been obliged to load only containers with a VGM on to seagoing vessels. Containers without VGM remain standing.
VGM Discovery Methods
The determination of verified total weights can be carried out in accordance with SOLAS by two methods:

Method 1:

The containers are weighed
Method 2:

All individual weights of goods, packages, packing aids and logs are totaled and calculated together with the container tare as a verified total weight
More information about SOLAS VGM
We have compiled all information about SOLAS-VGM for you clearly for download and update our information as soon as further findings or regulations are available.
Do you have any questions? Please send us your enquiry via the contact form or call us.
VGM data transfer with dbh
Find out here which shipowners can reach you with dbh solutions to SOLAS-VGM.
Sie nutzen eines unserer Produkte und benötigen Unterstützung? Unser Support-Team berät Sie gerne.