Audit-proof long-term archiving of business documents
Digital long-term archiving makes it possible to store the ever-increasing amounts of data permanently, at any time available and audit-proof.
In Germany, however, electronic archive systems must comply with the requirements of the Commercial Code, the Tax Code, the principles for the proper keeping and storage of books, records and documents in electronic form, as well as data access (GoBD) and other tax and commercial requirements.
Advantage Archive meets all requirements for proper audit-proof archiving and thus supports you on the way to a continuous digitization of your business processes. And thus creates space in the office and archive room.
Benefits of Advantage Archive
Audit-proof storage of documents in

the ISO-certified German data center
No invest in cost-intensive archive software
Flexible scalable storage space
Second-time and location-independent access including extensive search function
Cost and space savings by reducing the paper content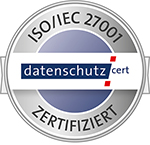 Secure archiving in the dbh cloud
All internal management and configuration data is stored in a database system in the security-certified dbh data center. An encryption technique ensures that archived documents can no longer be modified (=audit-proof) or viewed without permission.
The archive is accessed via a protected web client or, if necessary, directly SSL-secured from the applications, so that all important documents and files are centrally and quickly available. An integrated full-text search allows you to quickly find all documents. Index terms obtained automatically from field and file contents can also be used for this purpose.
Your way to the digital archive
Advantage Archive can be used in many ways and adapts perfectly to your needs and processes:
Archiving of locally scanned documents of any kind and transfer to the archive by scan clients
Archiving of metadata and documents from other applications (personnel files, accounting, forwarding software, e-mail server, etc.) via interfaces
Optional workflow management via additional modules, e.g. for contract management or expense reports
Your contact to our sales department
Your contact to the dbh sales department
+49 421 30902-700 or sales@dbh.de
You are interested in our products and consulting or need help with your dbh software? Our sales team will advise you to find the perfect solution for your company.