Today, companies operating internationally have to comply with a variety of legal regulations and regulations. Part of this is the classification of goods in the customs tariff – the tariff. The customs tariff number can be used to derive the applicable customs and tax rates for the goods, as well as approval requirements. Classification errors can have serious and costly consequences. With Advantage Compliance Classification, you can easily find the right customs tariff numbers.
Benefits of classification
Support in classifying your items
Automatic updates of the product numbers (EZT)
Interfaces to customs and foreign trade systems
Management of set and assortment items
Integration of data from existing ERP systems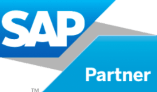 SAP and ERP Integration
dbh Plug-Ins für SAP sind Softwareerweiterungen, mit denen Sie Ihr SAP-System ganz einfach um Module, wie beispielsweise Sanktionslistenprüfung, Exportkontrolle, Tarifierung, US-Re-Exportkontrolle, ergänzen können. Und Ihr Vorteil: dbh SAP Plug-Ins sind bereits für SAP HANA ausgelegt.
Andere ERP-Systeme (Warenwirtschaftssysteme) können ebenfalls durch die Module von Advantage Customs erweitert werden.
Correct goods classification is necessary
Misclassification can have not only financial but also legal consequences. The digital audit plays with the recasting of Section 147, para. 6, Tax Code plays a crucial role in the need for the correct classification of goods. In addition to customs inspection, however, other financial and legal aspects are important.
What do you have to consider when classifying?
Can preferences be used?
Is the right amount of taxes and levies paid?
Are there any prohibitions and/or restrictions?
Do you need additional documentation?
Does the import/export of an authorisation/licence require?
Is the product subject to the anti-dumping regime?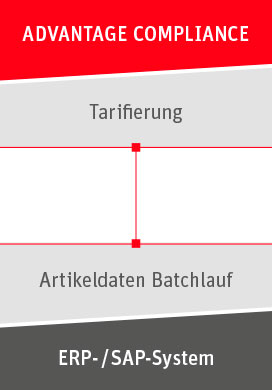 Properly tariff with the dbh solution
The module is used for the sustainable documentation of the correctly determined product numbers. Item data can be read in via interface and assigned directly, the item master can be created internationally. The well-known content supplier guarantees always up-to-date data and automatic consideration of changes.
An editing wizard helps you create and rank new items. Set and assortment items can also be easily lined up and managed. When classifying comparable articles, the module displays suggestions. Classification offers several ways to determine the correct commodity tariff number: direct search in the goods nomenclature, browsing the keyword directory or crawling already classified items.
The goods classification has interfaces to other dbh modules. Classified items can be transferred to export control, for example.
dbh classification is an intelligent classification support. It can be implemented independently or into your existing Advantage Compliance System.
Your contact to our sales department
Your contact to the dbh sales department
+49 421 30902-700 or sales@dbh.de
You are interested in our products and consulting or need help with your dbh software? Our sales team will advise you to find the perfect solution for your company.