SAP solution from dbh for the implementation of the new regulations
EU-Japan Free Trade Agreement
It is the largest free trade agreement in the history of the European Union to date: on 1 February 2019, the EU-Japan Free Trade Agreement entered into force. Known as "JEFTA" during the working phase, the official agreement is now called the EU-Japan Economic Partnership Agreement.
Was hat sich durch JEFTAgeändert?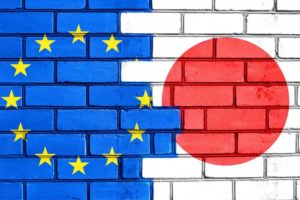 Mit Inkrafttreten wurden für 91 Prozent aller EU-Exporte die Zölle abgeschafft. Nach Ablauf verschiedener Übergangsfristen, etwa im Bereich Agrar oder für Kraftfahrtzeuge, wird dies für 99 Prozent aller EU-Exporte nach Japan gelten. Damit sparen europäische Produzenten etwa eine Milliarde Euro an Zollzahlungen beim Handel mit Japan. Aber auch die VerbraucherInnen in Japan sparen, weil europäische Produkte wie Fleisch oder Käse aus der EU dadurch deutlich günstiger werden.
Gibt es Übergangsfristen für bestimmte Waren beim JEFTA Abkommen?
Umgekehrt hat die EU für den weitaus größten Teil der japanischen Importe die Zölle abgeschafft. Übergangsfristen gelten aber beispielsweise noch für Unterhaltungselektronik oder japanische Kraftfahrzeuge, bei denen die Zölle von derzeit 14% bzw. 10% über 7 Jahre hinweg abgesenkt werden. Für europäische Verbraucher werden durch die Zollsenkungen japanische Produkte ebenfalls erschwinglicher.
Darüber hinaus wurden mit dem Abkommen so genannte nicht-tarifäre Handelshemmnisse abgebaut. Unterschiedliche technische Vorschriften und Normen haben in der Vergangenheit EU-Exporte in manchen Bereichen um bis zu 30% verteuert. Die EU und Japan haben sich in einer Vielzahl von Bereichen auf die Anerkennung internationaler Sicherheits-, Umwelt- und Qualitätsstandards geeinigt sowie auf Mechanismen, um solche Handelsbarrieren künftig zu vermeiden. So können beispielsweise Kraftfahrzeuge, Arzneimittel und Medizintechnik künftig leichter exportiert werden.
Unterschiede von JEFTA zu bisherigen EU-Abkommen
Ein gesondertes "Ursprungsprotokoll", wie dies aus anderen Freihandelsabkommen bekannt ist, enthält das Abkommen nicht. Vielmehr ergeben sich die präferenziellen Ursprungs- und Verfahrensregeln aus dem Kapitel 3 des Abkommens. Die wesentlichen Elemente des Kapitels 3 wurden in einem Merkblatt des Zolls zusammengestellt.
Auf eine Warenverkehrsbeschein wird verzichtet, statt dessen ist eine Erklärung zum Ursprung (EzU) erforderlich wie beim Abkommen mit Kanada (REX Registrierter Ausführer). Im Gegensatz zu anderen Abkommen muss eine EzU aber bereits ausgefertigt worden sein, bevor eine Präferenzbehandlung beantragt wird. Darüber hinaus wird der präferenzielle Ursprung im Abkommen EU-Japan bei der Einfuhr durch den Zoll überprüft.
Request for preferential tariff treatment
There is no movement certificate EUR.1 for preferential trade with Japan. Instead, there are two options available to the EU-Japan EPA: a declaration of origin and the certainty of the exporter.
The respective basis shall be indicated in the customs declaration with its own coding. The following codings have been communicated by the German Customs Administration for the import:
In the case of a declaration of origin for a delivery: U 110, valid for 12 months
In the case of a declaration of origin for several deliveries of identical products: U 111 (may not exceed 12 months)
If the importer is certain: U 112
Explanation of Origin (EzU)
The declaration of origin shall be issued with the text of one of the published language versions on the invoice or on another commercial document. If the EzU is issued on a separate document, the invoice or commercial document must clearly refer to that separate document (e.g. by reference to a document number).
The following applies to the declaration:
If the preferential products contained per delivery do not exceed the value of EUR 6,000, any EU exporter may submit this declaration of origin.
When making a preferential declaration of origin with a value of more than EUR 6,000, the export registration number must also be provided. EU companies require registration as a Registered Exporter (REX). In Japan, the "Japan Corporate Number" must be indicated accordingly.
In the EcU, it is mandatory to register the coding of the origin criteria (e.g. "A" or "C2" etc.), otherwise this will lead to the refusal of preferential treatment at the time of importation. Details and hints can be found here.
The exporter is responsible for the accuracy of the EzU and the information provided. This means that even if the exporter of a product is not its manufacturer, the EcU must include the coding of the origin criteria used. Therefore, the exporter of commercial goods needs the appropriate information from his supplier in order to be able to complete the EzU. The required information may be included in a supplier's declaration in addition to the prescribed wording or documented in other form.
However, EU exporters are not obliged to provide further explanations or information on production processes, values of materials, etc. in addition to the EcU, even if the importer in Japan so requests. The absence of such explanations does not lead to the rejection of preferential treatment in Japan. For more information, see Customs technical notification of 21.03.2019.
Confidence of the importer
This declaration is completely new: in the absence of a declaration of origin on the commercial invoice, the importer may also apply for preferential treatment on the basis of the 'certainty of the importer'. However, this completely new possibility requires that the importer has robust information on the originating status of the imported product and is able to provide evidence. Therefore, this form of proof of origin is more likely to facilitate those EU companies associated with the exporting companies in Japan.
JEFTA Agreement FAQ
The Stuttgart Chamber of Commerce has prepared FAQs' application of the agreement in practice to clarify the most common questions. You will find these Here. In addition, the Federal Ministry of Economic Affairs and Energy (BMWI) has prepared a comprehensive FAQ on the EU-Jaban Free Trade Agreement.
Fazit: dbh bietet eine Lösung für SAP Nutzer
Um das Abkommen wirklich nutzen zu können, muss der Exporteur zwingend den Code der Ursprungsregel kennen, nach der die jeweilige Ursprungseigenschaft ermittelt wurde. Dies ist insbesondere für Handelswaren eine echte Herausforderung, da hierfür kein Feld in der LE/ LLE vorgesehen ist. Standardmäßig gibt es in den gängigen Warenwirtschaftssystemen auf Materialebene in der Regel außerdem (noch) kein Feld, welches für das Ursprungskriterium vorgesehen ist.
Gut, dass dbh für SAP-Nutzer hier eine Lösung parat hat: Sie können das Ursprungskriterium von Ihrem Lieferanten mit Hilfe der Lieferantenerklärung einholen, den Code Materialnummern-bezogen verwalten und an die eigenen Kunden weitergeben. Oder Sie pflegen das Ursprungskriterium im Rahmen der Präferenzkalkulation ein, um Ihren Kunden den Code in den Lieferpapieren oder im Rahmen der ausgehenden Lieferantenerklärung zur Verfügung zu stellen.
Sie nutzen eines unserer Produkte und benötigen Unterstützung? Unser Support-Team berät Sie gerne.