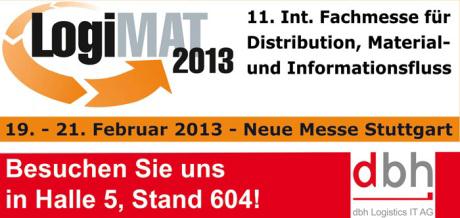 The highest possible efficiency in the operation and optimal control of business processes – these are the unanimous requirements for companies that want to ensure long-term success in the market. For this reason, ERP systems have become established in medium-sized and large companies. The best known and most widely used is SAP.
When it comes to foreign trade-related issues, such as customs clearance and compliance, there is an important criterion: compliance with international legal regulations.
dbh Logistics IT AG (dbh), consulting and software house for customs and logistics, will present at this year's LogiMAT how these requirements can be implemented for SAP users.
Software extensions for export and import
In particular, the import and export declarations of goods and services are complex processes in which a number of directives must be observed. For companies, therefore, the more automated, the better. That's why dbh has developed SAP extensions for both processes, which make it easy to extend existing SAP systems. These so-called "plug-ins" ensure that the customs-relevant data is transmitted from the SAP system to the customs software Advantage Customs. Advantage Customs is connected as a certified product to ATLAS, the system of the German customs authorities. Messages that come back from the government system are also forwarded to SAP.
"The plug-ins come very close to the goal that users do not have to make an additional handle for import or export – the customs clearance takes place almost completely in the background," explains Martin de Vries, Head of Customs Solutions at dbh. Numerous companies such as Bitburger Brewery, Böwe Systec, CABB, Emery Oleochemicals, Rapunzel Naturkost and Sanofi-Aventis have already opted for the dbh add-ons.
SAP Solutions for Logistics Processes
In the context of SAP, dbh offers both consulting and software, primarily from its Hamburg location. The offer ranges from the general introduction of SAP in the company to the implementation of standard solutions such as SAP BusinessObjects Global Trade Services to the development of program extensions for special topics in customs and foreign trade (e.g. ATLAS customs clearance, VAT ID check or sanction list check).