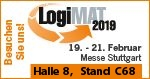 Today, companies expect highly efficient logistics with flexible and transparent processes at the same time. dbh Logistics IT AG will be showing software solutions at LogiMAT 2019 in Hall 8, Booth C68, with which global trade processes can be optimised and the increasingly complex legal regulations to be complied with.
Markets change and change from day to day, sometimes even hourly. Logistics must be able to react quickly and flexibly – nationally, internationally and globally. The biggest hurdles are customs regulations, national laws, compliance regulations and trade agreements. These issues can mean significant savings or additional costs. And any loss of time incurs additional costs. This means that the better companies design their processes, the more successful the company is.
The software solutions of dbh Logistics IT AG become effective at these essential levels of an efficient supply chain. Electronic customs clearance with Advantage Customs or checking individuals, goods, or countries against current sanction lists and export control regimes with Advantage Compliance make global goods flows more reliable, cheaper, and safer. With Advantage Compliance Präferenzmanagement, effort and complexity for the calculation and verification can be massively reduced in order to be able to optimally benefit from preferential agreements. Advantage Delivery bundles all used carriers and shipping-related activities in a central shipping system and offers optimal conditions for more productive shipping with a sophisticated freight cost management.
dbh creates effective interfaces between the systems of the actors in the interplay of production, logistics, customs, storage, distribution and consumption. All dbh software products communicate smoothly with each other, contributing to end-to-end processes and accelerated workflows. At the same time, they can be easily integrated into existing system landscapes and offer simple links with merchandise management and ERP systems. As an SAP Service Partner, dbh also provides all products as plug-ins, which easily and cost-effectively extend sap ERP or S4/HANA with customs and foreign trade functions.
Accelerated processes, optimised use of resources, greater transparency, risk minimisation – the dbh experts will be discussing the potential of the digitization of logistics chains in Hall 8, Booth C68.