With a record participation of 2,162 exhibitors and more than 60,000 visitors, transport logistic closed on 12 May 2017 in Munich. The number one topic this year was clearly the digital revolution in logistics.
This was also the case for Alexander Dobrindt, Federal Minister for Transport and Digital Infrastructure. In his opening speech at the trade fair, he underlined: "Digitalization is not the sargnagel of logistics, but logistics is the key factor in making digitalization a success."
dbh SHOW POTENTIAL OF DIGITALIZATION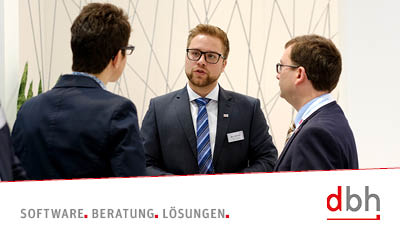 For dbh Logistics IT AG (dbh), participation in transport logistic was a great success. Under the motto "We digitize the logistics chains of this world", the Bremen-based IT company showed interested visitors a wide range of possibilities to make their own supply chain more efficient by means of software.
In addition to the proven solutions for transport management, international customs processing, goods origin and preference calculation as well as shipping processing,the topics of cloud services,audit-proof archiving and electronic invoice management were particularly well received.
INCREASED CONFIDENCE IN NEW TECHNOLOGIES
"The focus of transport logistic shows that the importance of digitalization in logistics has increased," says Marco Molitor, CEO of dbh Logistics IT AG. "This is partly due to new legal regulations, such as audit-proof archiving, but also to increased confidence in modern technologies."
All in all, he draws a positive conclusion: "It was a successful trade fair for us. We have increased the number of our contacts compared to previous years and got to know high-quality contacts. From large corporations to small companies, we were able to present the right software solution to the interested parties." Due to the resulting potential and the very positive feedback from the booth visitors, dbh also expects an economic success from the trade fair participation.