On December 3, 2020 in Bremen
We open the gates: on 05.12.2019 Nikolaus Open House is at dbh!
Listen to exciting practical lectures followed by a panel discussion. Connect with each other and exchange ideas on current topics in the logistics world. Take the chance and get to know the faces at dbh – we will arrange a Meet & Greet for you.
After an eventful day and the view behind the facade, we would like to end the evening together with you in a cosy atmosphere.
Sign up quickly! We look forward to seeing you!
Our program for you
The event starts at 1:30 p.m.
Listen to exciting practical lectures
dbh View back and View
Enjoy a guided tour of our heart of the house – our data center
Pre-Christmas dinner and extensive networking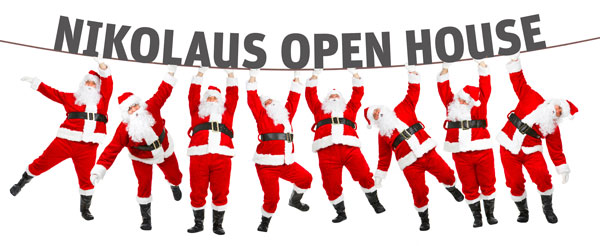 Guided tour of the data center
From 17:20 UHR – in two groups each
Duration approx. 30-40 min.
What awaits you
1:30 p.m. Registration and finger food
14:00 Welcome, Marco Molitor, Board of Management, dbh Logistics IT AG
14:15 Container Terminal Wilhelmshaven – Opportunities of the only German deepwater port, Michael Moehlmann, Sales Manager, Container Terminal Wilhelmshaven JadeWeserPort_Marketing GmbH & Co. KG
14:45 TradeLens – the innovative digitization of your supply chain, Christian Schultze-Wolters, Head of The Blockchain Solutions DACH division, IBM Deutschland GmbH
15:15 Pause with finger food
15:45 Topics Talk: Logistics in Exchange
16:15 Brexit – practical preparation & possible concrete problems from Operator's point of view, Sven Ohlsen, General Representative, DFDS Germany ApS & Co. KG
4:45 p.m. Panel discussion
17:05 Re- and outlook from dbh, Marco Molitor, Managing Director, dbh Logistics IT AG
17:15 Networking & pre-Christmas dinner
Exciting lectures and insights
ATLAS Zelos
The future of digital document communication
IT Security
How do you protect yourself from current threats?
Prinos
IT System Bremische Hafeneisenbahn – Current state of development
ALPO 4.0
Current state of development
Tarico
Easy to manage sea freight rates
CARGO ONLINE
Insights into the developer workshop
How to get to Nikolaus Open House
By public transport from Bremen Central Station
1. Possibility: From Bremen Central Station take bus 25 (Weidedamm Süd) to Martinistraße S-Bahn station – our building is located directly behind the bus stop.
2. Possibility: From Bremen Central Station take tram 1 (Huchting) or bus 26/27 (Huckelriede) to Am Brill.
On Am Brill to the southeast towards Mayor-Smidt-Straße
Continue on Martinistraße for approx. 220m (up to traffic lights)
Please cross the traffic lights
On the left is dbh Logistics IT AG
By car
Please enter: Martinistraße 47-49, 28195 Bremen in the navigation system.
By plane from Bremen Airport
From Bremen Airport take tram 6 (University) to Domsheide.
From the Domsheide turn onto Marktstraße, follow it for 110m
Turn right on Am Markt
On the market for 100m follow to the Langenstraße (slightly turn left)
Follow the Langenstraße for approx. 240m (until the traffic lights).
On the right, next to the car park, is dbh Logistics IT AG
dbh Logisticts IT AG
Martinistraße 47-49
28195 Bremen
Parking:
Paid parking is available in the Pressehaus car park right next to dbh.
Please keep in mind, however, that in the run-up to Christmas the parking spaces in the city centre are very crowded. We therefore recommend Park & Ride.
Your contact to our sales department
Your contact to the dbh sales department
+49 421 30902-700 or sales@dbh.de
You are interested in our products and consulting or need help with your dbh software? Our sales team will advise you to find the perfect solution for your company.