ALPO: Advantage Logistics and Port Organisation
Advantage Logistics and Port Organisation (ALPO) is the central platform for handling port orders in all German seaports as well as the western ports.
Fast and secure communication with the information systems of national and international seaports and the entire handling of containers and general cargo is possible with ALPO. Our platform simplifies order management in ports.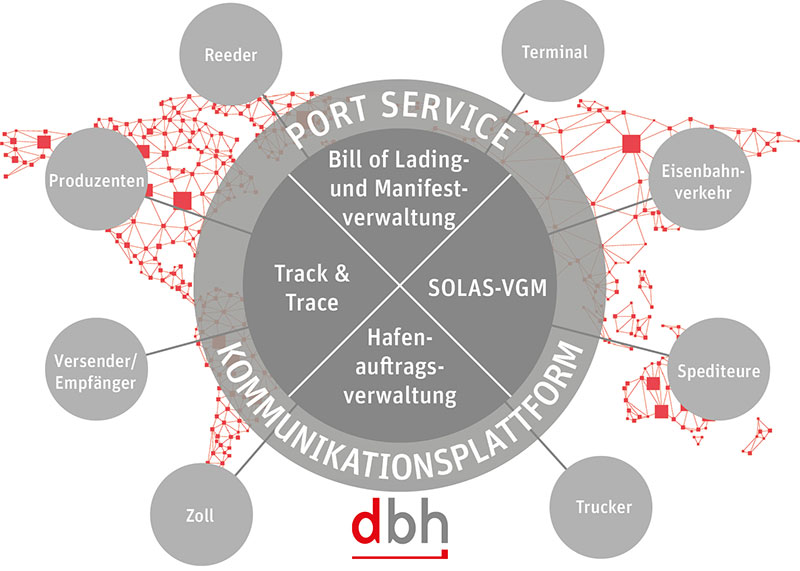 Use PortService as a central communication tool for easy networking with your partners in the port environment. Integrate new partners into your Suppy Chain cost-effectively and quickly. Benefit from high data quality, interface-independent communication and a scalable system. ALPO can be integrated into the central platform PortService as an additional module. Leverage the potential of networked communication.
Manage port orders in all seaports
Port orders in ALPO can be recorded manually in the web client or imported into ALPO via interface to existing systems. ALPO can also be used as a black box when connected to your systems. You will then receive the feedback in your system.

Benefits of ALPO
Monitoring of port orders
Connection to international port community systems
Fast order entry through copy function and templates
XML interface for importing port orders from other systems
High security standards through certification and encryption
Port order available as PDF
Export processing via The German seaports with ALPO
The Port Community Systems BHT in Bremen/ Bremerhaven, WHT in Wilhelmshaven and ZAPP in Hamburg are closely linked to ATLAS, the German customs system. Create BHT reference numbers or B/Z numbers conveniently via ALPO.
Module BHT/WHT (Bremen/Bremerhaven or Wilhelmshaven)
With this module, you can use all functions and order types in the order entry for the port system BHT (Bremen/Bremerhaven). Export, transshipment and import registrations via ALPO are possible for containers, general cargo and collective loads. All order types available in the port system WHT (Wilhelmshaven) are also available via ALPO.
Module ZAPP (Hamburg)
With our ZAPP module for ALPO, you can record the form types HDS, GM01 as well as A08, A09, A15 and A18 (with and without dangerous goods) and transfer them to the Port Community System in Hamburg. In ALPO, you can easily create B and Z numbers for your container, general cargo or groupage shipments.
Export processing in the Netherlands
Portbase, as the operator of the Port Community System in the Netherlands, offers the "Notification Export Documentation" (NED) service for Rotterdam and Amsterdam. With the commissioning of the terminals on Maasvlakte II, electronic port orders become mandatory here.
Module Portbase (Rotterdam/Amsterdam)
Using ALPO, you can quickly and easily create NED messages to Portbase to ensure the export processes for your container shipments at the ports of Rotterdam and Amsterdam.
Export processing in Belgium
The Port of Antwerp is the operator of the Antwerp Port Community System (APCS). Electronic communication is carried out in the port of Antwerp and Zeebrugge via this system.
Module APCS (Antwerp/Zeebrugge)
You can use the ALPO module APCS for your container or ro-roloading via the Belgian ports. Use this to prepare your port orders and export control declarations to Belgian customs for terminals in Antwerp and Zeebrugge.
Your contact to our sales department
Your contact to the dbh sales department
+49 421 30902-700 or sales@dbh.de
You are interested in our products and consulting or need help with your dbh software? Our sales team will advise you to find the perfect solution for your company.