CODIS: CENTRAL ORGANISING, DISPATCHING AND INFORMATION SYSTEM
The Central Organising, Dispatching and Information System (CODIS 2.0) is part of the
Port Community System (PCS) of dbh Logistics IT AG (dbh). dbh is an IT service provider
for the Bremen ports and Wilhelmshaven.
With CODIS 2.0, dbh provides a central and neutral communication platform for the organization
and handling of rail-bound freight transport in seaports. The software is
of all railway undertakings, operators and sales companies in the ports
Bremen, Bremerhaven and Wilhelmshaven.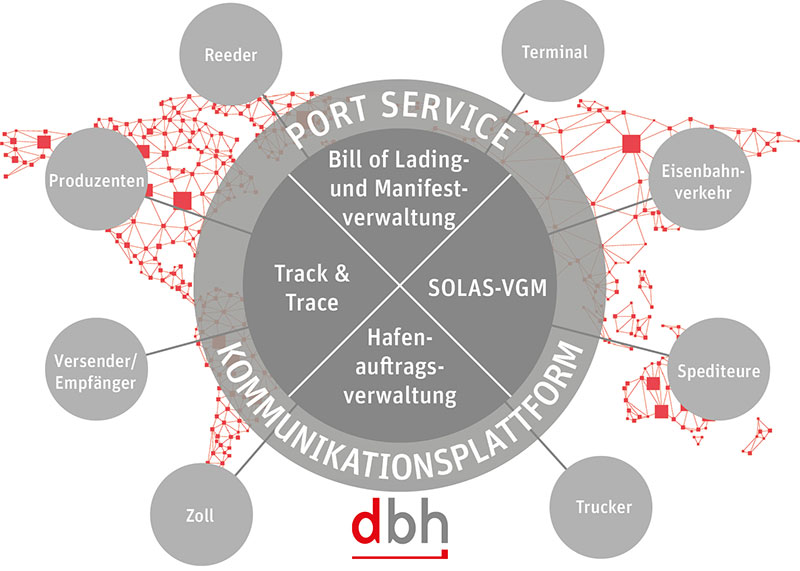 Use PortService as a central communication tool for easy networking with your partners in the port environment. Integrate new partners into your Suppy Chain cost-effectively and quickly. Benefit from high data quality, interface-independent communication and a scalable system. Automatic creation of transport orders for railway undertakings (EVU) based on incoming messages.
Slim technology without installation
We provide CODIS with secure Internet access with all functionalities, so you don't have to install any software on their servers. The software is automatically up-to-date with every dial-in. Nevertheless, interfaces to other software solutions can be implemented to ensure that a smooth data exchange within a company remains possible.
CODIS ensures a more efficient handling of rail transports and enables the transfer of containers to the point of delivery completely by electronic means. The application can be operated intuitively and therefore requires little training time.
Modular design of CODIS
The CODIS 2.0 is designed in a building block and offers its users the following modules:
Module Transport Management (TPM): Order management, status messages and customs check
Module Disposition (DIS): Delivery/collection of trains/carriages. Assignment of loading units to wagons.
Module Customs Information and Verification System (ZIPS): Testing and release of vgVV traffic (simplified Community transit procedure) at the seacustoms port of Wilhelmshaven
Module Hafenbahn-System (HASY): Execution of the slot procedure and scheduling of the installation group in Wilhelmshaven
Your contact to our sales department
Your contact to the dbh sales department
+49 421 30902-700 or sales@dbh.de
You are interested in our products and consulting or need help with your dbh software? Our sales team will advise you to find the perfect solution for your company.