dbh presents innovative IT architecture for secure communication in sea and inland ports. In September, the status conference "Innovative Port Technologies (IHATEC)" was held in Berlin at the Federal Ministry of Transport and Digital Infrastructure (BMVI). There, the current research results of selected projects funded by IHATEC were presented, including "SecProPort" – scalable security architectures for business processes in German ports.
Partners present BMVI-funded project "SecProPort" in Berlin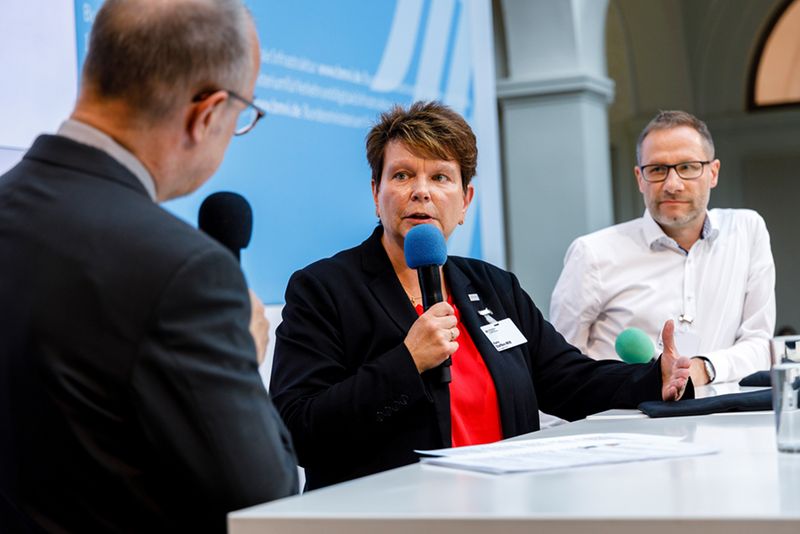 Representatives of dbh Logistics IT AG were on site, who, in addition to port logistics companies, research and educational institutions, are partners in this research project. Karin Steffen-Witt, SecProPort project coordinator and site manager in Lübeck at dbh Logistics IT, presented the current status during an interview in the capital. "Cyberattacks are now commonplace. Against this background, the particular challenge here was to examine the complex communication structures in ports and potential hazards in order to develop appropriate, efficient and accepted security mechanisms," explains Steffen-Witt. The extensive analyses have already been completed – based on these results, it is now necessary to define security requirements.
Durable security architecture
The next step is to establish a security architecture for all parties involved in the port communication network. This architecture can be used to derive appropriate requirements for the applications of the individual actors in sea and inland ports and to develop tailor-made migration plans. "The basic requirement is that all actors are involved and that the mechanisms and instructions for action are made available to all. In addition, the security architecture must meet far-reaching resilience requirements," the project coordinator added. Before a functioning security architecture can be made available to all stakeholders, including terminal operators, shipowners, authorities, port railway operators, dbh Logistics IT, together with some partners, examines the practical feasibility on the basis of a prototype. The aim is to establish smooth and secure communication processes that are guaranteed in the event of cyber attacks of any kind as well as negligent human misconduct.
The "SecProPort" project is planned for three years and runs until October 2021. The total cost is around 3.5 million euros, 75 percent of which is financed by the Federal Ministry of Transport and Digital Infrastructure.