The digital networking of ports is progressing, Logistics 4.0 has long been known to everyone. Cuxport is also focusing on digitalization and is developing a state-of-the-art digital management system for its multipurpose terminals in Cuxhaven from July 2017.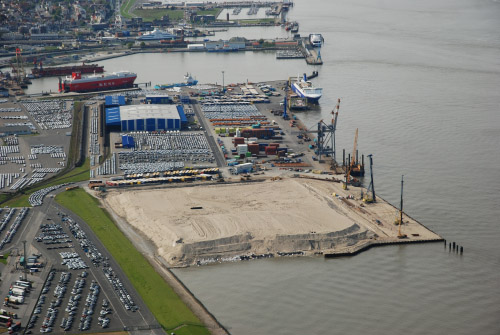 Dbh Logistics IT AG, a leading company for software and consulting in the areas of customs and foreign trade, transport management, port management, compliance, SAP and cloud services, was selected as a partner for the implementation. The existing basic modules of Advantage portos, a software series around the port industry and hinterland connection of the provider, are adapted in close cooperation with the Cuxport users to the special requirements of the multifunctional terminals.
The new terminal management system includes the organisation and control of all handling and storage processes and enables electronic data exchange with customers such as shipping companies, forwarders and shippers as well as with authorities such as Customs and Lower Saxony Ports, the operator of the seaport.
The aim is to make the processes at the terminal significantly leaner and more efficient. Mobile process control and high connectivity to the partners will also simplify the previous administration. "However, it is also important to map the high range of services required by the market and continue to grow in the system – also with a view to advancing digitalization in the coming years," reports Mario Juranz, project manager at Cuxport. "This is where we take the next step with web-based order and material control as well as extensive gate automation, which will also benefit our partners."
"Our business and cargo volumes are growing steadily and this will be intensified by the completion of the new berth 4 in mid-2018. With this state-of-the-art management system, we are also investing in the future viability and efficiency of our processes and terminal logistics," says Peter Zint, Managing Director at Cuxport. "This relieves resources and creates capacity for new businesses."
After a kick-off workshop in June, the system will now be further adapted and implemented. Completion is scheduled for August 2018.
"We are happy to support Cuxport in the holistic digitization of logistics chains. With our software modules portos Lagerei and portos Terminal, we already provide a good basis for the realization of the special requirements of Cuxport," says Karin Steffen-Witt, Project Manager Port Solutions at dbh.
Source