Business Information & Tracking
As an information platform, Business Information & Tracking (BIT) provides a large amount of data about your containers and supports you in the import and export process. Various modules are available to you, which you can combine depending on your information needs.
BIT Benefits
Support in the import and export process
Planning of truck transports
Clear web application
A portal for all port systems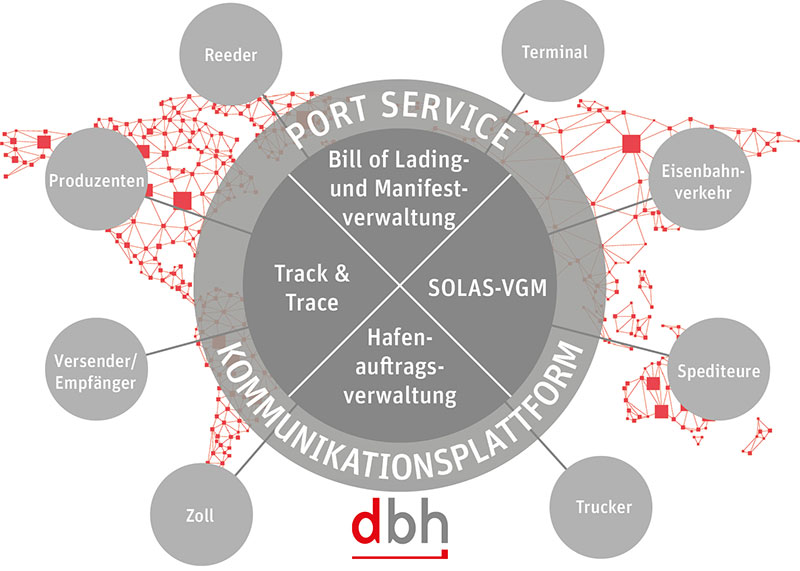 Container data in PortService
Use PortService as a central communication tool for easy networking with your partners in the port environment. Integrate new partners into your Suppy Chain cost-effectively and quickly. Benefit from high data quality, interface-independent communication and a scalable system. BIT can be easily integrated into the PortService as a module.
Portal for hinterland connection
With three modules, Business Information & Tracking is a comprehensive and efficient planning and information tool for importers, exporters, forwarders and hauliers. In addition to the container status information for all terminals, you will receive the necessary customs information via BIT in the import process for the seacustoms ports in Hamburg and Wilhelmshaven and the free port in Bremerhaven.
The handling at the terminal when shipping or picking up containers by truck is significantly simplified by checking the readiness for transport or pre-announcement.
Benefits of BIT
Up-to-date information about your containers
Accelerated customs processes
About the ATB number
Automatic display
Notification by e-mail or SMS
One portal for all terminals
No more delays in your supply chain
Your container has already been deleted, but you are missing the information about it? You also no longer want to manually search for the status of your container on the individual information portals of the terminals? BIT automatically informs you about every change in the status of your containers, so you can arrange for onward transport in a timely manner and avoid standing fees.

Especially at weekends or at night there are delays if your containers have already been removed from the ship, but due to the lack of delivery by customs, there is still no authorization to carry them on. Use BIT for the automated submission message to customs Bremerhaven during the customs procedure before presentation (ZvG).
Plan truck transports reliably
Check the validity of the exemption reference or shipowner booking number before the driver arrives at the terminal to avoid unpleasant surprises and time losses. The check for dangerous goods declarationors or the existence of a port order (obligation before delivery at the container terminal Wilhelmshaven; in short: CTW) can also be carried out via BIT.
Take advantage of the possibility of truck avsiseration at the CTW including the pre-checking of the necessary data (exemption PIN, shipowner booking number and port order) and benefit from the simplified truck handling.
The container data can of course be integrated directly into the CARGO ONLINE forwarding software to make your processes even easier.
Sie nutzen eines unserer Produkte und benötigen Unterstützung? Unser Support-Team berät Sie gerne.