ANSW – Advantage National Single Window
With Advantage National Single Window (ANSW), you can easily and safely carry out registration formalities for ship arrivals at all German seaports in accordance with EU Directive 2010/65.
Observe national law with dbh
The requirements of Directive 2010/65/EU have been transposed into national law in Germany by amending the Start-up Conditions Regulation (AnlBV). The AnlBV is the basis for the obligation of the shippers to electronically notify the federal waterway and shipping administration in Koblenz via the National Single Window Core System of the Federal Republic of Germany. This is a communication between reporting parties and authorities. Communication with other commercial enterprises is excluded.
How the National Single Window works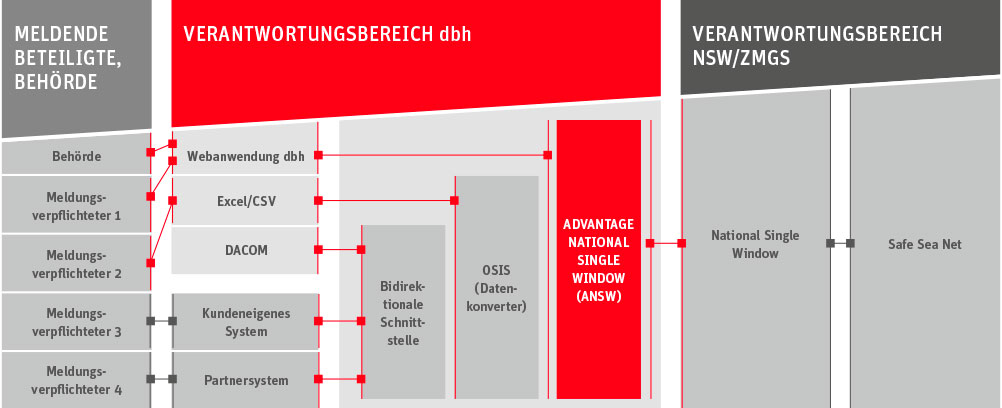 The obliged parties of an incoming or outgoing seagoing vessel transmit the data, such as the ship registration (port office), the list of crews (federal police) or the dangerous goods declaration (port office), to ANSW. A wide range of options are available for this. This information is transmitted to the NSW core system. The National Single Window ensures that every recipient, such as the Federal Police, the Port Authority, and the Maritime Health Authority, gets exactly the information they need. For this purpose, the data intended for you is made available to the authority via its own interface or a commissioned port information system (HIS).
Advantage National Single Window (ANSW) for mandatory reporting
Web capture with proactive support
Acquisition via bi-directional interfaces in a wide variety of formats
Offline capture and bandwidth-friendly communication
Starting a registration process is possible from the SIS timetable
Transparent assignment of authorisations to other reporting participants
Communication of the registered trip to all reporting participants
Additional supply of the reporting data in Bremen, Bremerhaven, Wilhelmshaven and Lübeck to the companies involved in the business sector can avoid additional reporting costs
Proactive notification (optional)
Detailed evaluations (optional)
Advantage National Single Window (ANSW) for authorities
Use as a port information system (HIS) or forwarding the data to an existing HIS
Clear provision of the message data
Examination of notifications including the recording of comments
communication of the audit as well as the recorded comments to the obliged
Detailed evaluations (optional)
Your contact to our sales department
Your contact to the dbh sales department
+49 421 30902-700 or sales@dbh.de
You are interested in our products and consulting or need help with your dbh software? Our sales team will advise you to find the perfect solution for your company.