On 07.12.2015 dbh Logistics IT AG (dbh) invited to the traditional Nikolaus Open House ( NOH for short – at the Bremen headquarters in Martinistraße. Nearly 130 guests accepted the invitation and made it an unforgettable event this year.
Informative lectures and pre-Christmas get-together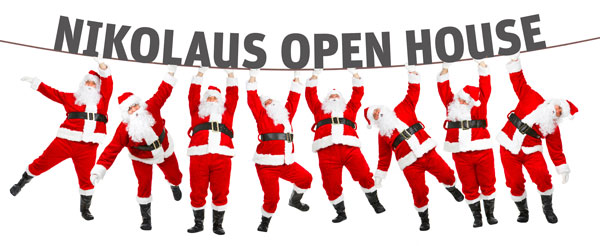 It was cuddly in the house dbh when from 1.30 p.m. the guests from industry and trade, forwarding and logistics as well as shipping and port came for Christmas punch and small snacks. After the welcome by Marco Molitor, dbh board member, we went into the first round of lectures – and this with two topical topics.
Right at the beginning, Daniel Braß, Key Account Manager IT Services at dbh, gave the answer to the question "Cloud Computing – Hype or Perspective?". This was followed by Uwe Liebschner, consultant for customs and foreign trade at dbh, with the topic "The truth about the Union Customs Code: regulations, grey areas and consequences". As Chairman of the IPCSA Customs Committee, Mr Liebschner is active in various bodies of the European Commission and thus provided qualified first-hand information.
There was also a lot to offer during the break. In addition to short presentations on dbh products and exhibitions on EU projects with dbh participation, there was plenty of time for Meet & Greets before the second round of lectures. Sven Weitzmann, Managing Director of MediaLex Verlag GmbH, spoke about"National Single Window:Experiences, Status, Outlook", especially with regard to the import and transshipment of veterinary goods. Markus Lohmann, Managing Director of Vallée and Partner – Consulting for Logistics and IT, welcomed as further external speakers. Mr. Lohmann impressively illustrated the focus on "Industry 4.0 from a logistics point of view".
Before the established event ended with a Christmas buffet and extensive networking at the Nikolaus Open House Bar, there was one last important announcement from dbh.
Adoption of a dbh board
After a total of 29 years, Reimund Ott, CEO of dbh, leaves the company and retires. His career at dbh began as an IT organiser and ultimately led to the board of directors, to which Mr. Ott was appointed to the joint stock company in 2001. "In the many years of his dbh affiliation, Reimund Ott has managed to form a Europe-wide recognized software manufacturer and data center service provider out of a pure port service provider. With his work and leadership, he has had a significant impact on dbh," Marco Molitor summed up. And, of course, the final word belonged to the outgoing board.
"I would like to thank Marco Molitor for the support and, above all, for the trust that has been placed in me and dbh," said Reimund Ott, adding, "My request is: pass on this trust and support to Marco Molitor, he has the great task of continuing the company alone from January 1, 2016."