Freight forwarders can now present customers and their agents the status of their international shipments more up-to-date and clearer. With the new CargoTrace portal, dbh offers not only additional display options, but also the possibility to record forwarding orders and exchange related documents.
TRAXON and INTTRA integrated
The clear online solution introduces information about the transport process that is important for freight forwarding customers: In addition to the planned pick-up, take-off or departure times, CargoTrace now also displays the actual time history. For this purpose, the developers of dbh have linked the international databases TRAXON (air freight) and INTTRA (sea freight) to their systems and automatically apply their status changes. The port platforms Bremerhaven, Hamburg and Wilhelmshaven will also be connected shortly. The tracking & tracing solution also passes historical data from these sources directly to a predefined group of recipients via e-mail. This particularly benefits recipients of international freight, who can plan with possible deviations at such an early stage.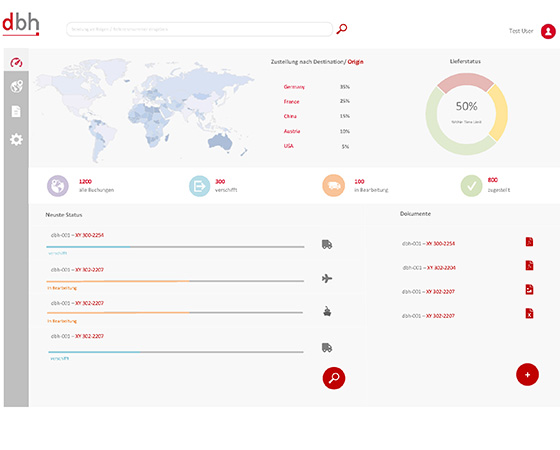 Web portal enables document exchange
CargoTrace visualizes the individual transport sections graphically, via an analysis dashboard and with various list views that can be configured individually. A scaled display for display on smartphones and mobile devices is of course part of this. The online portal now offers freight forwarding customers completely new options: You can enter new forwarding orders or upload documents such as commercial invoices and packing lists. In the case of freight forwarding, this data is transferred to the CARGO ONLINE Transport Management System (TMS) and archived directly in the electronic file. The service provider and its agents also have the option of displaying documents in CargoTrace on an order-related basis, such as delivery documents and invoices. With each document upload, the tool can also send an automatic e-mail to recipients stored in the system. The respective notification texts for this are set by the forwarding company itself.
Easy switch to Track & Trace Portal
Switching to the new order portal is almost effortless for dbh customers: the developers promise that after just one day invested in managing users and rights, taking over data and training on the product, everything will be running smoothly. The changeover is recommended because the new solution will link all parties in the transport chain more closely and involve customers and agents in the electronic data exchange.